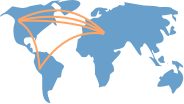 Show Academic Trajectory
My name is Danilo Jimenez Rezende. I am a Staff Research Scientist at Google DeepMind, where I work on general-purpose probabilistic machine reasoning and learning algorithms.
My research focus on scalable inference methods, generative models of complex data (such as images and video), applied probability, Bayesian analysis and unsupervised (deep) learning.